Attractive pricing for every bridge club
Bridgemate pricing
Bridgemate systems comprise a 5-table [Bridgemate II] or 2-table [refurbished Bridgemate Pro] base pack plus the required number of additional handsets. The base pack itself provides the corresponding Bridgemate II/ or Bridgemate Pro wireless server, the specified number of handsets, the Bridgemate Control Software, cables, and other installation materials. Prices are inclusive of next-day delivery, a two-year warranty, subsequent software/firmware updates, and VAT at 20%.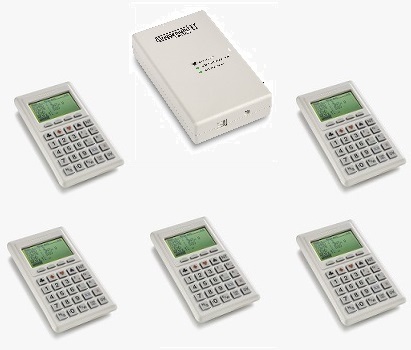 Bridgemate II Base Pack£995 incl. VAT
Bridgemate II system
A Bridgemate II system comprises the 5-table base pack at £995 plus £132 for each subsequent handset. A 10-table system for example is £1,655 fully inclusive...
Accessories for Bridgemate II
Additional Bridgemate II handset
£132 incl. VAT
Additional handsets may be added to the base pack, either initially or later.Each handset is supplied with 2 AA batteries..
Bridmate II carrying case
£60 incl. VAT
Purpose-built and convenient carrying and storage case for Bridgemate II. Holds up to 25 handsets and one server.
There is also an aluminium flight case using adjustable internal dividers that will hold up to 15 handsets and one server, at a cost of £24 incl. VAT.
Additional Bridgemate II server
£240 incl. VAT
An additional wireless server for use on a second computed with a usb connecting cable.
Aluminium flight case
£30 incl. Vat
This case uses dividers to accommodate up to 14 handsets and one server. A slimline 11.6" laptop will also fit in the lid.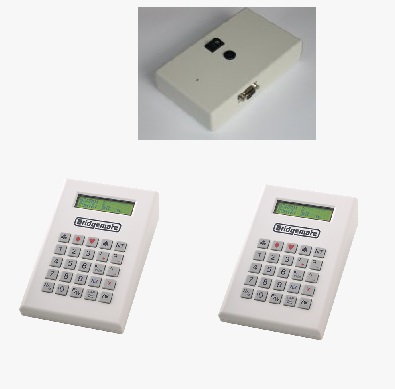 Bridgemate Pro Base Pack£375 incl. VAT
Bridgemate Pro server [new] plus 2 refurbished handsets
The original and ground-breaking Bridgemate Pro scoring device. The 2-table  base pack provides two robust and easy-to-use refurbished handsets together with a new and redesigned wireless server. Handsets are provided with 4 AAA batteries. The complete base pack is furnished with a 1-year warranty.
Accessories for Bridgemate Pro
Bridgemate Pro handset [refurb.]
£54 incl. VAT
Refurbished handsets are added to the base pack as requiredWireless base station for the Bridgemate Pro scoring system. Including USB-serial converter and power adapter.
Tournament director's key (TD-key)
£3
Special key for the TD to configure the Bridgemate Pro, enter adjusted scores and edit/view/remove scores.
Bridgemate Pro server (new)
£240 incl. VAT
This wireless base station features a plug-in serial cable and includes a USB-to-serial converter and power adaptor.
Carrying case for Bridgemate Pro
£60
Convenient carrying case for the Bridgemate Pro system. Holds up to 20 handsets and 1 server.
Communications cable
£30
Serial communications cable to connect the Bridgemate Pro directly to the computer.
USB-serial converter
£20
Converter to connect the Bridgemate Pro server and communications cable to the USB port. (included with server)
Additional products and services
Supplied already setup with Bridgemate Control Software, Windows driver, and the user's choice of scoring program. Ready to go out of the box.    
From £200 including VAT [11.6" screen] or £299 including Vat [15.6" screen].
Several Bridgemate-enabled scoring programs are available in the UK. Contact us for further details.
Prices from the suppliers
Extend the standard 2-year warranty to 4 years. Only valid for the Bridgemate II scoring system
£12 including VAT per Bridgemate
Bridgemate UK has discontinued supply of Jannersten bar-coded playing cards.