Bridgemate app
Features and benefits
The Bridgemate app is a personal add-on for your existing Bridgemate Pro or Bridgemate II scoring system. By using the app, during or anytime following an event, you can review your personal event scores, consult your guide card for next round seatings, view current rankings, or see your competitors' scores and hand records for the boards you've just played. The Bridgemate app can also be used to enter scores. Tournament directors can follow the event from their app and receive TD-calls in it, whether they are playing or non-playing TDs.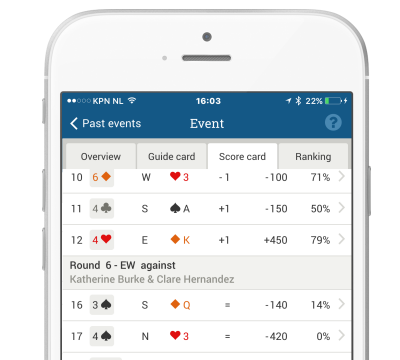 See the scores entered on the Bridgemate live on your smartphone. Lead cards are also displayed, and board percentages are updated continuously.
Rankings are periodically updated in the app throughout the game. As soon as the game ends, final rankings become available.
Note that the app calculates percentages and rankings on a match-pointed pairs basis.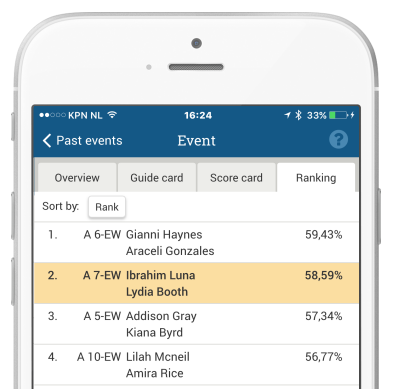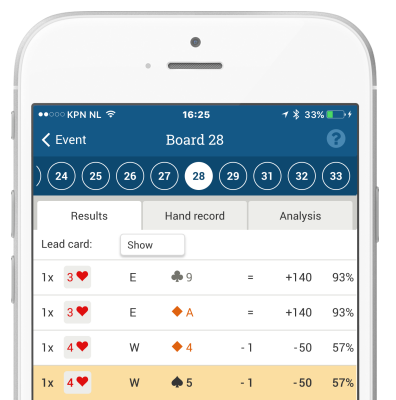 View your opponents' results on the boards you have played.
A complete overview of contracts with lead cards is displayed.
When hand records are available to the Bridgemate system, they are displayed in the Bridgemate app. An overview of makeable contracts, based on double-dummy analysis, is also displayed.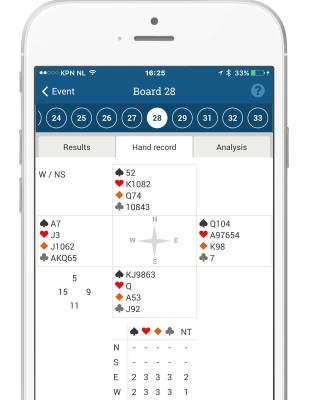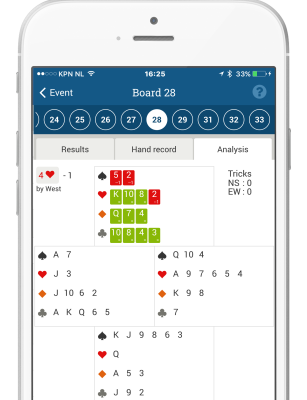 Replay a hand and analyse the best play using the in-app analyser. By using double-dummy analysis, the app indicates how each possible card you could play would affect the final board result.
With the Bridgemate app, your personal guide card is always on hand during the game. You can discover who your opponents are, which table you are playing, and whether or not you have a bye.
In Swiss Pairs events, the guide card is updated dynamically once the scoring program has determined your next-round assignment.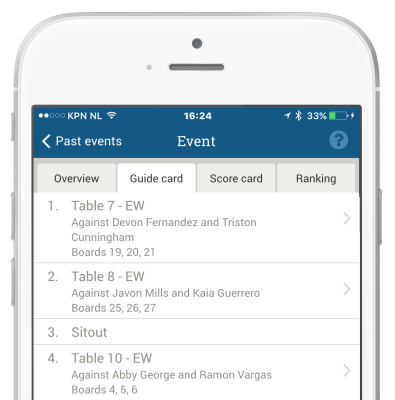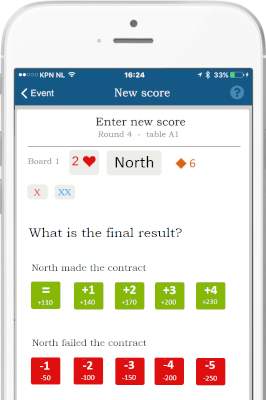 Use the Bridgemate app to enter scores. The Bridgemate app can be used as a replacement for Bridgemates or can be combined with Bridgemates in a game. Using Bridgemate app for score entry is an ideal solution when there are not enough Bridgemates or the bridge game is played in various distant locations.
Tournament director features
Using the Bridgemate app helps a tournament director to monitor the event. You can receive TD-calls on your phone with a notification, have access to all boards (non-playing TDs only), and view all rankings and player seatings throughout the event.
For more information about the tournament director features, click here.